In the world, where people prefer gaming desktops or Gaming PC, Dell has changed the definition of a gaming laptop. Recently at CES 2019, Dell announced its new Gaming laptop "Alienware Area 51m" which is world's first gaming laptop allowing the user to replace its processor, graphics cards, storage, and RAM. The new Alienware Area 51m is designed just as a gaming desktop, allowing you to upgrade its features to latest gaming tech.
Dell's new flagship laptop under Alienware is the perfect gaming rig both for gaming and work. The new Alienware Area 51m laptop, allows the user to perfectly balance out work and play. The Alienware Area 51m perfectly handles new games but also delivers great performance in terms of battery, design, and multi-tasking that you need in daily work. Dell's Area 51m offers desktop-grade hardware parts which most likely can be upgraded to balance out the power and refinement. Dell further said, that the new laptop Alienware Area 51m would be out by the end of January and will come with price tag of around $2549 (approx. Rs 190,000).
So, let's have detailed look at Dell's new Alienware Area 51m. Below, we'll be highlighting some of the new specs and features of new Alienware series gaming laptop.
First, speaking about the new design. Dell's Alienware area 51m features new look called Legend which offers two colors patterns which are in softer form and has lighters colors such as Lunar white and charcoal; that Alienware calls its Dark side of the Moon.
The most notable feature of Area 51m is the backlit oval design which Dell calls "stadium loop" or an "Infinite Loop" which has an RGB lighting pattern and can be adjusted according to your mood or game. The new Area 51m also features Intel's Core i9-9900k processor which is top notch gaming processor available in the market. The world's most powerful laptop also features 6GB of DDR4 2666MHz RAM and is equipped with 8GB of RTX graphics Card which is optional to the users choice (that is RTX 2060, 2070 or 2080)
Also, Read AMD's New Radeon VII 7nm Graphics Card.
The Alienware Area 51m has impressive upgradability feature storage and GPU. You can easily customize the storage option based on your needs. The new Area 51m cones with single, double, and triple storage drive configurations. The storage drive also has a wide range of options from HDD and SDD hybrids to dual running in RAID with 3 supplement drive. further, there is also plenty of option available in the 1080 display, ranging from 60Hz panel to a 144 Hz panel option alongside with Nvidia G-sync and integrated Tobii eye-tracking rig. The Area 51m also offers four RAM slots, supporting up to 64Gb of 2400MHz memory. The Area 51m also features a 90Wh battery, which needs to power adapters to function at full performance.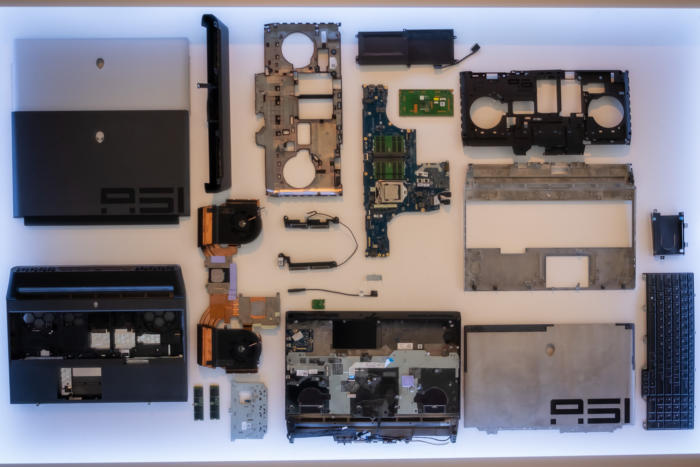 Top Specs of the new Alienware Area 51m:
CPU: Comes with 3 customizable options: 9th gen Intel Core i7-8700 or i7-8700k and Core i9-9900k.
RAM: DDR4-2400MHz. which can be upgraded from 16GB to 64 using 4 SODIMM slots.
Graphics: Comes with 3 options: RTX 2060, 2070 and the new 2080.
Display: 17.3-inch of full HD i.e 1920×1080.
Dimensions: 16.1 x 15.85 x 1.09-1.7 inches
Wieght: Around 4Kgs including AC adapter.
Expected Price: $2549 or 1,90,000 Rs.
All in all, I think Dell's Alienware Area 51m is a great product for premium gaming section, offering amazing desktop grade parts alongside sleek and attractive design. However, we are not sure if it's going be the best-selling laptop of 2019 as it comes with the expensive price tag which will have limited buyer buying the product. But Moreover, we have a lot see when the actual product comes in hand for review and benchmarking.