Just having a good game sense doesn't make you a professional gamer. what makes you great is your aim accuracy, reflexes, and real-time decision-making skills during that intense round. Here we have covered some essential tips on How to improve Aim for FPS games that might help if want to improve gaming skills.
People usually think that getting an expensive mouse would improve their game or even accuracy which is partially correct but not having good training and constant practice would make you lose at the game. Most FPS games such as PUBG, CS-GO, and Overwatch requires hours and hours of game experience and practice to excel in that game.
But not all of us can dedicate 4-5 hours just for gaming and meanwhile forgetting studies but if you are looking for something quick which would you to improve your aim as well get your hands warmed before the actual game, we have got you covered. We have shortlisted some of the best tips on how to improve aim for FPS games which are mostly used by pros to improve their aim.
1. Getting the Right Mouse:
Having a good mouse can actually help you to improve your accuracy while playing your favourite first-person shooting game. A gaming mouse offers more features such as a great optical sensor, DPI options and extra buttons which aren't available in regular office mouse. Apart from the features, the gaming mouse is designed in a way that would allow you to play for games for extended sessions along as well as providing greater comfort for your hands.
Broadly speaking about design, the gaming mouse ergonomics fit perfectly for your holding style whether you are "palm" or "fingertip" mouse holder. Further, mouse's ergonomics are divided into two basic styles: Mouse with more buttons which are designed for custom key binds for games such as MOBA and RPG and second comes the mouse with fewer buttons which basically designed for a fast-paced shooter and action games.
2. Knowing your Sensitivity and Adjusting DPI:
Sensitivity places a key role in improving your accuracy and aims. Many professional gamers prefer playing in low sensitivity which allows them to have more accurate shots in competitive tournaments. Mostly mouse's sensitivity varies from game to game and player to player, some prefer high sensitivity setting whereas some like playing in lower sensitivity. In short words, Sensitivity means how fast or slow the cursor moves relative to your hand movement.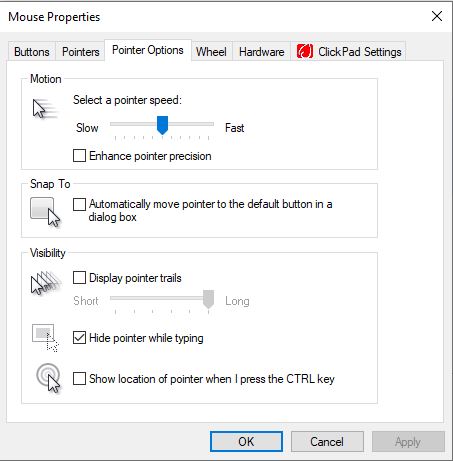 If you didn't know mouse acceleration, many professional gamers recommend disabling the mouse acceleration or also known as "Enhance Pointer Precision" mouse acceleration moves your mouse in accordance with the momentum of the movement, rather than the distance. So a short quick burst of movement can throw the mouse farther away than a slower movement of the same distance.
This affects your muscle memory and perfect aims. You can disable you mouse acceleration by following this simple steps Control panel>mouse properties/settings>pointer option>disable or uncheck Enhance Pointer Precision. Essentially,
Furthermore, some gaming mouse such as Logitech, Razer, SteelSeries has their own custom software for adjusting the mouse DPI setting for precise cross-air movement in the game improving your aims. This software allows you to create custom key binds or DPI setting for each individual games, allow you to have full control over the game as soon as you execute the game's file.
3. Practice Makes Perfect
We talked about Getting the right gaming mouse as well as spoke about adjusting DPI sensitivity, now in this last section, we will be suggesting some of the best Aim emulators which are freely available online and are used by many professional players to improve their aims and accuracy.
The one way to get better at the game is to keep on practising as well as knowing where you made the mistake or what made you lose in the previous round. we have shortlisted some of the best Aim emulators which are designed to improve your aim and also allows you to adjust to DPI setting according to your play style.
3D Aim Trainer
3D Aimtrainer is one of the best aim trainers available out there. This aim trainer comes with two modes allowing you to focus on improving your Flick and Reflexes or improve your Tracking. This trainer is mostly recommended for games such as Fornite, Team Fortress, PUBG PC and CSGO game, where you need fast reflexes and good tracking for eliminating your opponent. 3D aim trainer only requires to have an internet connect and flash player to run the trainer.
Aim Booster

Aim booster is a simple app for improving your reflexes. It has a simple UI design, which improves your reflexes for faster aiming as well as provides you with feedback about accuracy and targets that you hit. Aim booster is simple to use the application, where you need to click the orange dot before it shrinks. Aim booster has a simple way to get your aim and accuracy improved before playing an actual game.
Aim.Pro
If you are looking for something quick to practice or get your hands warmed before a competitive game then Aim.pro is something you have to try. Aim.pro has a simple UI design and has different training mode available allowing you to focus on developing a particular style of aim such vertical aiming, horizontal aiming, wrist aim, and flick training.
The game automated feedback engine which analyzes and provides feedback about your strength and weakness. furthermore, it produces similar training environment which is an actual representation of the game allowing you to improve your accuracy and skill.
All in all, We would say Practice! Practice! and Practice! the browser games listed will definitely help in improving your reflexes and soon you will be head shotting your way to victory.