MIUI is the custom skin for Android developed by Xiaomi. MIUI is feature packed and it totally supports the Xiaomi's budget phones and even mid-range phones. MIUI has features like dual apps, second space, app lock etc. amongst other really handy features in-built in it. The full-screen navigation gestures in MIUI is probably the best. MIUI also offers a lot of themes and other customization options. But one thing that hampers all the MIUI experience is the annoying ads and bloatware. Are you too annoyed with the ads? So, I am back to your rescue with the article covering the topic on how to remove ads in MIUI.
This article will help to remove ads from pre-installed Xiaomi apps like Mi Music, Mi Security, Mi File Explorer and more. It will also help you in removing ads which comes while installing an app. And, removing system ads is also covered. You'll need no third-party software or service to do it. Hope this article helps you.
What Are Bloatware?
Bloatware is unwanted software that is included in MIUI by Xiaomi to get money from the app's developer. Bloatware is useless as they make the phone slow and are unwanted. For example, some budget Redmi phones in the price range of around 7k, have four browsers installed in it. What will anyone do with four browsers? I mean, the Google Chrome and Mi Browser is okay but then there are two extra browsers, which are really of no use especially for a budget device like the Redmi 5A. If you have ever used a Xiaomi phone then you must have seen some pre-installed apps which are not required.
How To Remove In-app Ads?
1. Mi Browser
The Mi Browser is a cluttered app which I personally don't prefer or recommend. The ads here are between stories and headlines that you see when you open a new tab. One thing that's good about the Mi Browser is the support of Dark theme. These annoying ads can be removed by following the given ways.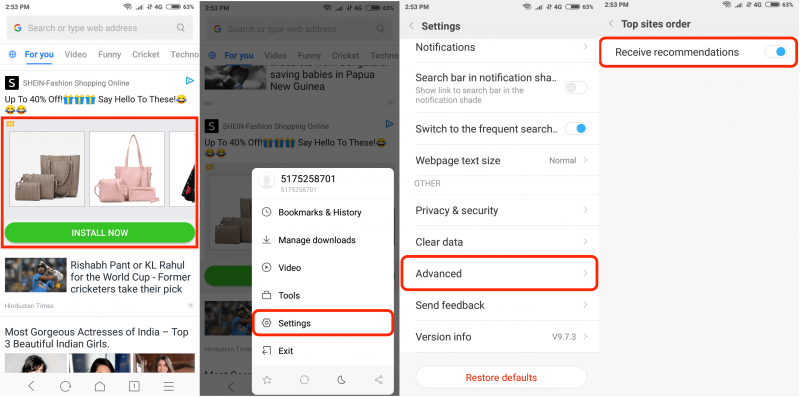 Tap the three horizontal bars icon in the bar at the bottom of the screen.
Among the options displayed there is the Settings option. Click I.
Scroll down to find and open Advanced
Then, at the bottom of the list is a Top sites order option. Tap it
There'll be one toggle called 'Receive recommendation'. Turn it off.
Close the app and start it again
And, the ads are gone. The UI is now a bit cleaner.
2. Mi File Explorer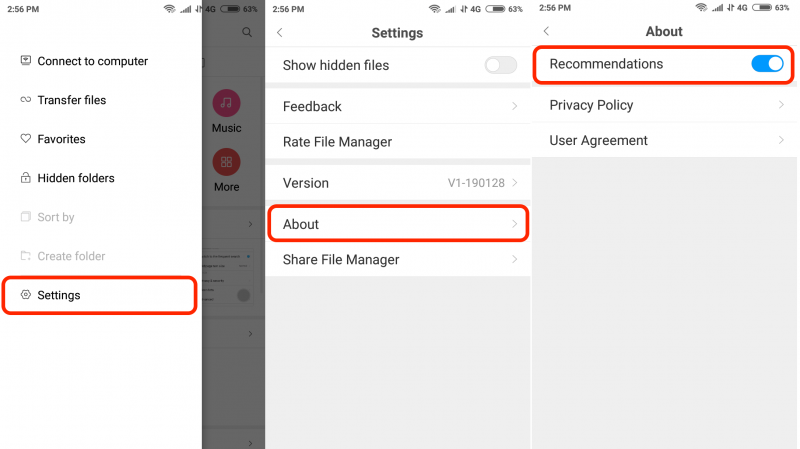 The Mi file explorer is probably the most used pre-installed Mi App. It is worthy to use as it is feature-packed and it has a clean UI but still the ads ruin the experience. But it seems that Xiaomi doesn't want you to remove ads from here so they have hidden this feature under the about section. To remove ads from this app,
Tap the three horizontal bars icon on the top bar which opens the hamburger menu
Then, tap settings
Go to the About section
Turn the toggle of Receive recommendation off
Restart the app
The ads are gone.
3. Mi Music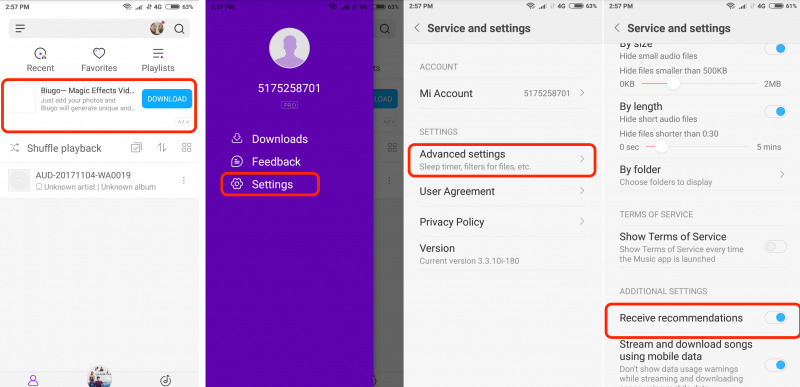 The Mi Music app lets users listen to the songs they have as well as stream music online with its integration with Hungama. The app is good and is better than most native music apps of other UIs. But still, banner ads are a huge problem. To get ad-free experience in this app,
Open the hamburger menu by clicking three horizontal bars icon in top beside the search bar
Go to Advanced settings
Scroll down and you'll find the Receive recommendation's toggle. Turn it off
4. Mi Security
The Mi security app is pretty useful. It lets you clean your device. And, yeah it works unlike most cleaner apps like Clean Master. It doesn't have ads on its home page, but yeah ads can be clearly seen when the cleaner finishes cleaning and shows the result. These results include ads. So, to remove these ads,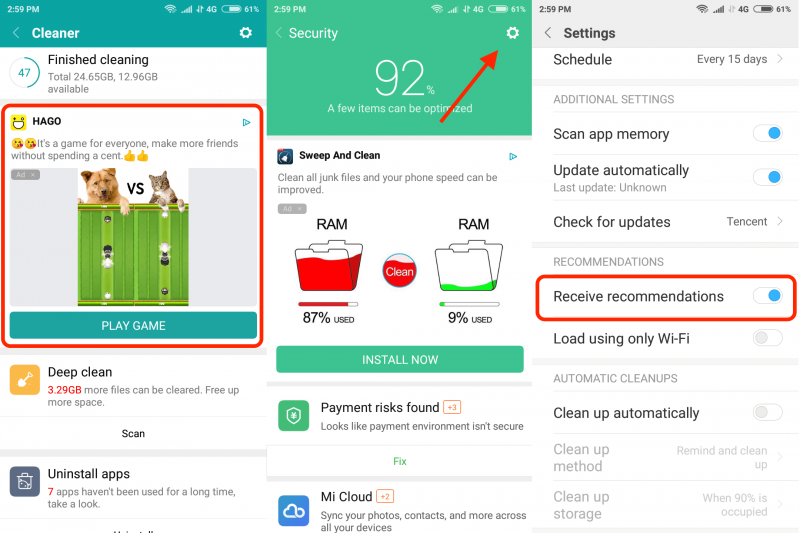 Jump into settings by tapping the cog icon (

⚙️

)
Scroll down and find the receive recommendations toggle
Turn it off.
Also, you can
In the same settings, go to Cleaner option
turn off the receive recommendations toggle
5. Downloads
The MIUI's native Downloads app is also filled with ads, which include banner ads and app recommendation. To remove ads from here,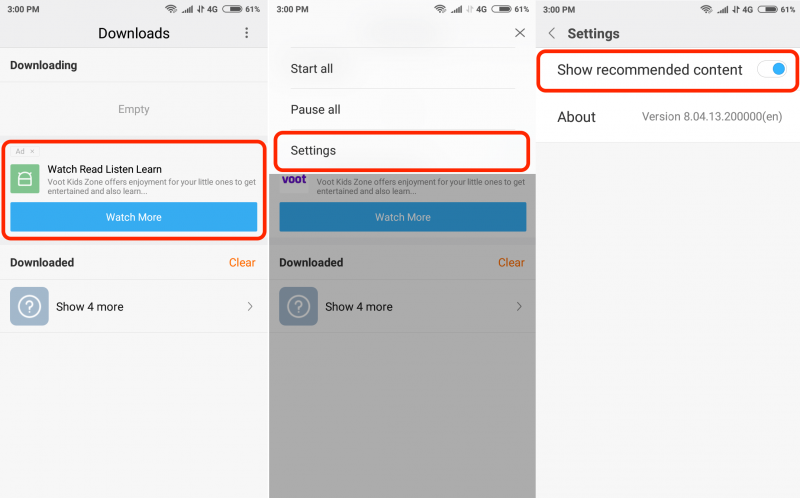 Tap the three dots icon in the top left corner of the screen
Turn off the toggle named 'Show recommended content'
How To Remove Ads in App Installer And Security Check?
While installing an app, the Security Check screen has a huge advertisements which is really bad. To remove ads from there,
Once the installation and security check has been finished tap the cog icon.
Turn off the receive recommendations toggle
Ads are gone.
How To Remove Promoted Apps From Folders?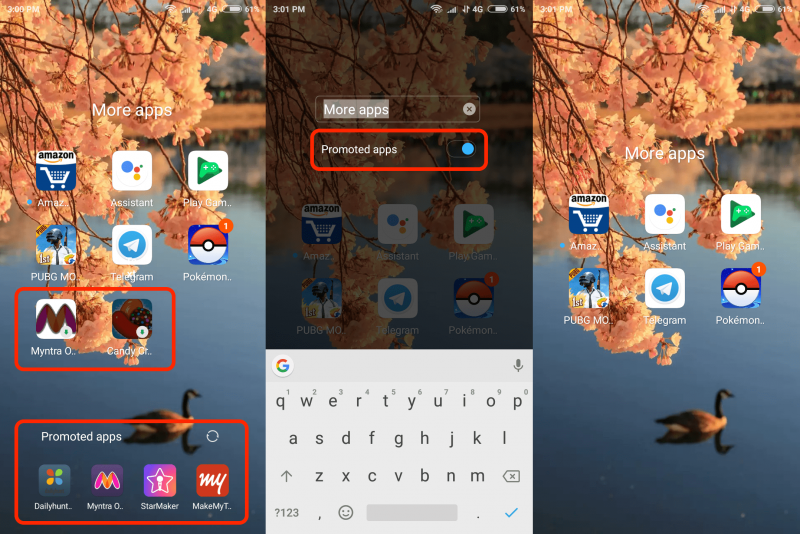 In each and every Xiaomi's phone, there is a folder called More Apps. They are basically the apps from third-party pre-installed with MIUI. But with it is promoted apps. Promoted apps here are some apps in these folders with a download icon in its right bottom corner. To remove it,
Open the folder where you find the promoted apps (mostly More Apps)
tap the folder's name
You'll find a receive recommendations toggle. Turn it off
Revoke Authorization From System Ads
Once you have disabled ads from these apps, you can revokeauthorizationn of system apps. To do this,
Go to settings
Go to additional settings
Got to authorization and revocation
Turn off the toggle named 'msa'
Wait for 10 secs and tap Revoke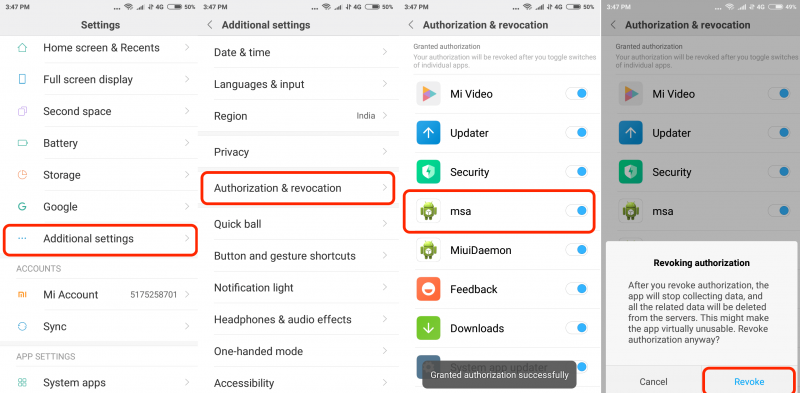 MSA stands for MIUI System Ads. And toggling this off will stop MIUI from collecting data for showing ads. Added to this, this will also delete all related data from the servers.
Following the fore gave steps, you'll be able to get most out of your Xiaomi MIUI experience. But I would still recommend Xiaomi to completely remove ads from its UI and make it cleaners like the stock android (Android One) and OxygenOS. If you like this article, be sure to share it with your friends and family members own have a Xiaomi device. Lastly, If you find any problem, drop a line below in the comments section, and I'll make sure to check it out.