Augmented gaming (AR) is the integration of the visual and sound content with the player's environment. AR uses an existing environment to create a playing ground. Unlike Virtual reality games, it does not require special headsets or confined rooms to create an immersive environment. Typically, AR games are played on smartphones and tablets.
While the AR game is a pretty new idea, it has gained traction the recent past. They offer an exhilarating experience swinging you between the real world and the novelty of the virtual world. If you enjoy playing games on your iPhone you've not yet tried any AR, you are missing out a big way. So which is the best AR game? Well, you do not have to go through the hassle of searching and trying every game. I have compiled five awesome games that are compatible with the iPhone and completely free. Here are the best games.
1. Pokémon Go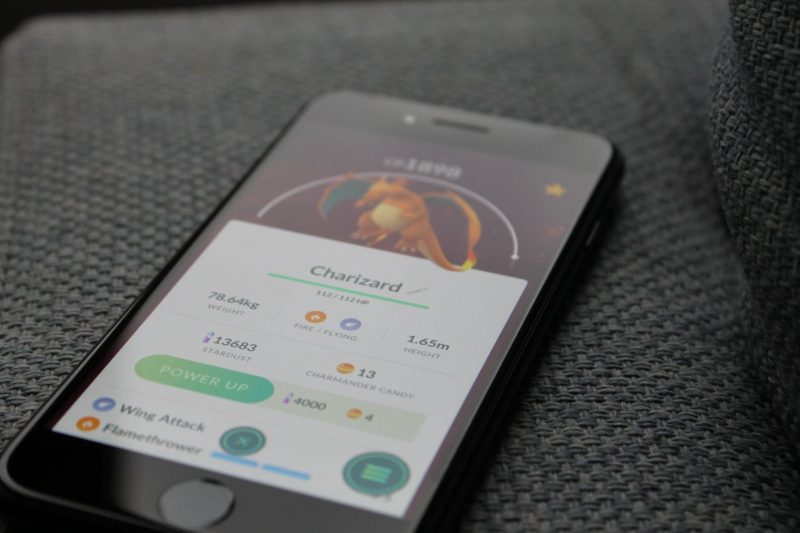 Pokémon GO is one most popular AR game. Developed by Niantic Labs, this gaming app took the world by a storm soon after its release.  It provides creatures from the popular Pokémon series and allows the players to search them in the real world. It blends the real and digital world to offer tremendous fun. The sheer scale of the cross-generational appeal sets it apart from the rest. You can choose any of the first generation Pokémon including Squirtle, Charmander, and Bulbasaur.
The tutorial is pretty the same so you it does not really matter which Pokémon you choose. Most Pokémon games involve collecting every Pokémon you come across. However, you can spend your time in Pokémon Go in other activities such as going to the gym. I know the idea of manuals can be quite unappealing. Do not fret. Professor Willow will take you through the introduction. Using the various available options, you can customize the skin color, clothing, and hair. You can actually tweak the characters features at any time.  The game can be quite addictive. At its peak, it had 20 million active users.  It is free to play. On the downside, it will drain your phone's battery.
Download Pokemon go for IOS
2. AR dragon
AR dragon is developed by Playside studios and uses ARKit tools from Apple to breathe life into dragons using augmented reality technology.  The game which was launched in 2017 is only available in the app store. It involves finding, customizing, feeding and playing with large fantasy dragons. Players can find skins and other items to customize their dragons. It free to play but it offers in-app purchases for customizing your dragon. As you spend more time in the game, you win more special crystals.
recent and upcoming updates allow the players to watch their pets grow and train them. If you love pets, then this is your game. Perhaps it's the reason it reached number spot in ARKit. Or perhaps it is because most people feel they have a unique pet? Well, be the judge.
Download AR dragon for IOS
3. Kings of pool
Do you fancy games that require precision and calculation? King of a pool is an AR game of billiard that allows you to enjoy either complicated or easy game. The AR mode works exclusively in IOS 11 and devices compatible with ARKit. Imagine playing a pool game in a table of your preferred size on augmented reality technology. It is certainly an amazing experience. One of the best features is that you can walk around the pool take and position yourself to take the best shot just as you would in the real world. All you need is an iPad or iPhone and you are set to go. In fact, you can play against other players. It can be a tricky game, but it is definitely worth your leisure time.
Download Kings of Pool for IOS 
4. Flat pack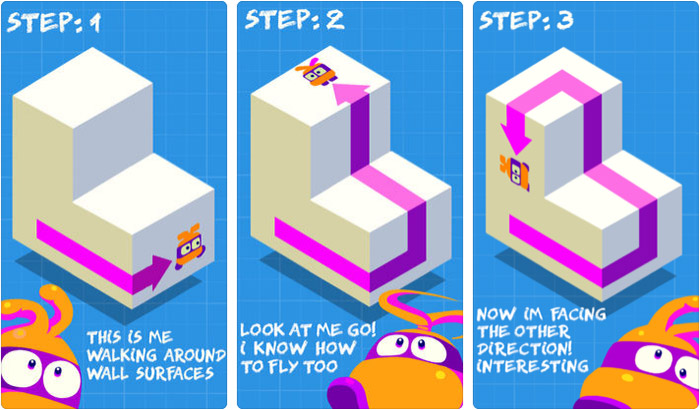 Flatpack is an exciting game that takes advantage of augmented reality to create three-dimension levels. As a player, you can change your orientation by transversing the edges of the area. In each level, you will experience obstacle to avoid, puzzle pieces and boss battles to be conquered so that you can escape. The AR mode takes the game to a whole new level in the real world.  It mixes 3D and 2D elements, which makes it more intriguing. To master it you will have to think outside the box. With epic fights and over 30 levels, it will keep you totally engrossed. The AR version allows you to interact with the 3D level. Here you have to explore things by moving around. Swiping doesn't work here work. The player is forced to move around to see all sides and path ahead. This dimensions bending platform is incredibly interesting and fun. You should try it!
Download Flat Pack For IOS
5. Paper Bin AR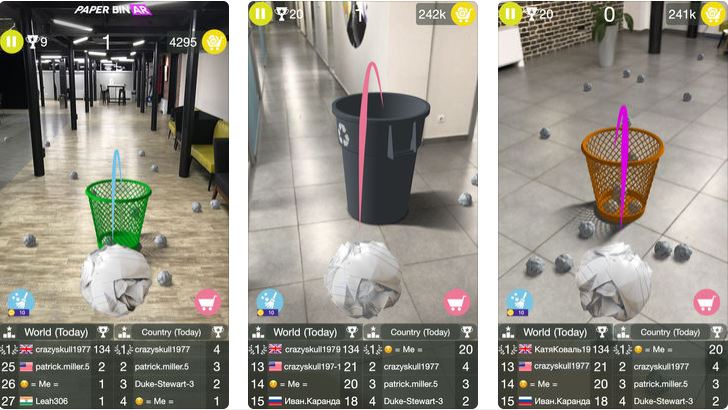 Paper bin AR is an augmented reality game where you throw papers in your own environment. You can easily adjust the game to difficult level by moving the bin around your environment. A cool feature of this game is that it uses ultra-realist graphics. The game has easy controls and easy to learn. You get a free bin but you can choose any from the multiple bins. Paper bin AR has three difficulty levels that will keep you engrossed and excited. Completing these games will make you go into a frenzy.
To play this game you will just need to position the paper bin any place within your space. The further you are from the bin the difficult the game is. There is an arc line in the game to show the difficulty level you are in. To toss the ball you use the swipe gesture. In addition to the nice sound effect, the game incorporates a global leader board where you can see your position and standings in your country. It probably the best paper toss AR game in iOS. You have to check it out and decide for yourself.
Download Paper Bin AR for IOS
Overall, there are plethoras of Augmented games in the apple app store. Argument reality is expected to the next big thing in the gaming industry among other exciting technologies such a virtual reality. New games are set to enter the market very soon. In the meantime check out these five augmented games and try them. You will be glad you did.