In the era of technology where everything is getting wireless, When the wireless earphones were introduced, there was a certain level of panic and disparity between the consumers, mobile companies removing their headphones jacks and forcing us to use Type-C or wireless audio peripherals.
However, now with people becoming habitual, it has become easier for them to adapt to this technology more seamlessly. Wireless Headphones are quite the rage mostly because of the ease of movement provided to the user while talking on or listening to music over their phone. They are a boon for the people who are always on the move.
Easy voice assistance meticulously crafted to perfection.
The true wireless earphones do not have any cable or extension. The convenience offered by these earphones is the next level as they completely remove the need to detangle the wires every time. Once set up, it is easy to pair them again with the phone anytime via automatic syncing. The connectivity happens via Bluetooth and the frequencies emitted are thousand times lesser than those of a standard phone. Additionally, these earphones have the feature of noise cancellation and echo reduction which increases the clarity of the sound delivered.
There are a number of options available in the market at an increasingly competitive price. Further, we are listing down the five most famous and decently priced ones to help you make the best decision possible.
What is True Wireless Earphones?
" Wireless " is defined as there is a minimal wire which is connected to the earpiece while the "True Wireless" does not have any kind of wires connected. These are mostly called "Earbuds" which are very compact in design and are a size of a coin or so offers good audio quality. Here is the list of few True Wireless Earphones which might interest you.
1. Sony WF-SP700N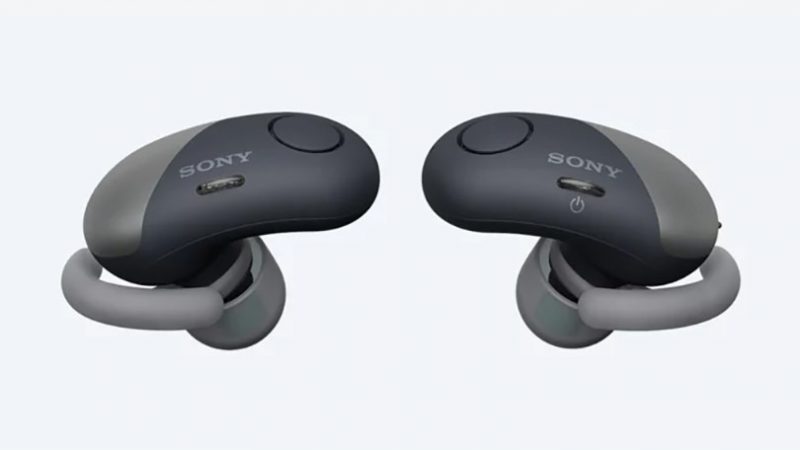 Pros:
Digital Noise Cancellation
Ambient Sound Mode
IPX4 Certified
Extra Bass
3 Hr Battery Backup
Cons:
Expensive
Big in size compared to normal
Price: Rs. 10,009
Get the most out of every workout with the truly wireless Sony WF-SP700N headphones. Has Noise Cancelling technology that blocks out distractions to keep you focused, while Ambient Sound Mode lets you enjoy your music and still hear your surrounding with an easy hands-free button you can receive any call with ease and can stay in your ear for long hours. Google assistant is enabled so you don't have to take out your phone every time comes with a charging pouch which gives you an additional 6 hours of charge.
2. Skullcandy Push S2BBW-L638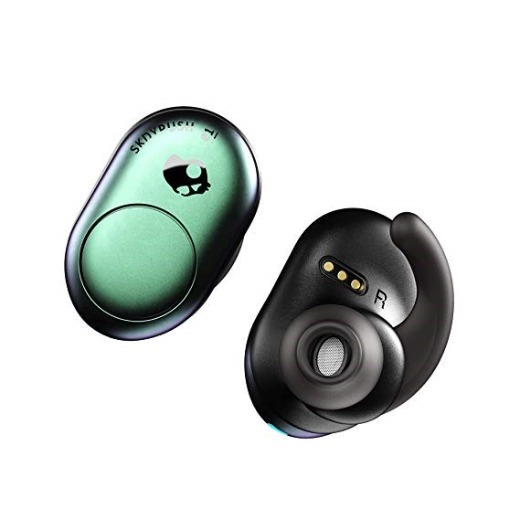 Pros:
Great bass
Loud vocals
Decent battery life
Fast type C charging
Good range of physical button controls
Great fit
Cons:
Big charging case
Big sized pods (subjective)
Occasional lagging in connectivity
Average build quality
Price: Rs. 9,099
Available at Amazon
The true wireless earphones by Skullcandy are bold in colour and sleek in style. The user needs to double tap to control the audio features and helps increase or decrease the volume. Similar functionality is provided in case of controlling call feature as well. Additionally, your phone assistant can also be easily awakened by just tapping the button thrice.
The fitting of the earphones is comfortable and steady preventing them from falling off easily. The earphones boost a battery backup of 12 hours which is quite a lot. Additionally, one can listen to uninterrupted music for a total of 6 hours before needing another round of charge. The earphones come in a chargeable case which is easy to carry. The control freedom provided is quite intuitive and gives the user a wider range of activities to carry out simply on the tap of a button.
3. JBL Free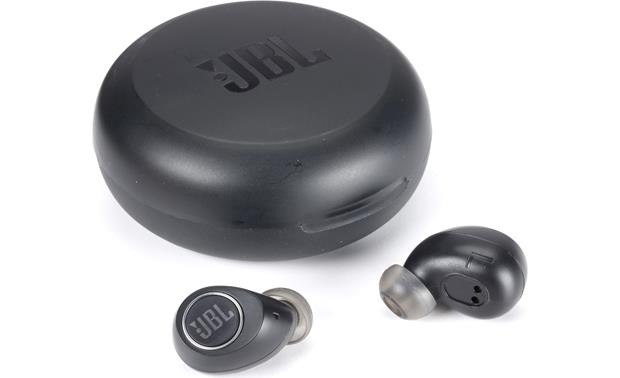 Pros:
IPX5 Certified
Integrated microphone
Single button for all controls
JBL Signature Sound
4 hours battery backup
Cons:
Price: Rs.8990
JBL has never disappointed when it comes to the audio, JBL Free is one of them which are true wireless earphones for listening to music and attending calls. It automatically switches to mono when you receive a call and it comfortably sits in your ears without popping out. It has a charging case which gives 20 hours of charge.
4. Merlin Digital Wireless Ear Pods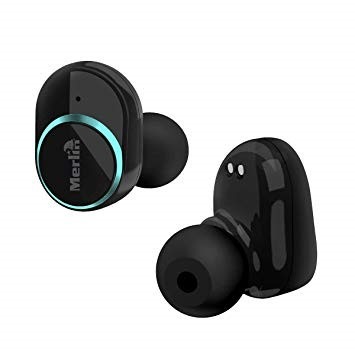 Pros:
Noise Cancellation
Built-in Microphone
Easily Plugged into Ears
Good Sound Quality
Con:
Takes 2-3 hours for Charging Earbuds with case
Price: Rs. 3,489
Available at Amazon
Merlin digital has launched a really robust and frugal pair of true wireless earphone which is one of the smallest available in the market. Equipped with noise cancellation feature, these earphones provide a far superior quality of sound.
The immersive sound quality enables the user to enjoy music on the move, be it while jogging or a power workout at the gym. Earphones are quite steady thus providing a strong hold on the ears. The earphones have a total talk time of 7 hours and play capacity of 5 hours in a single charge. There is also a built-in microphone to enable shutting down the earphones easily.
5. BoAt Airdopes 211
Pros:
Light Weight
IPX 4 Certified
Charging case
Cons:
Average battery life of 2.5 hours
Price: Rs.3648
Available at Amazon
The boAt has gained a lot of boos in past years because of its audio products they offer that too in a very budget segment. boAt Airdopes 211 is their new earbuds offering a good comfort with a decent amount of audio quality and that bundled with the portable charging case which gives 5 hours extra power to the buds.
6. Anker Zolo AK-Z2010011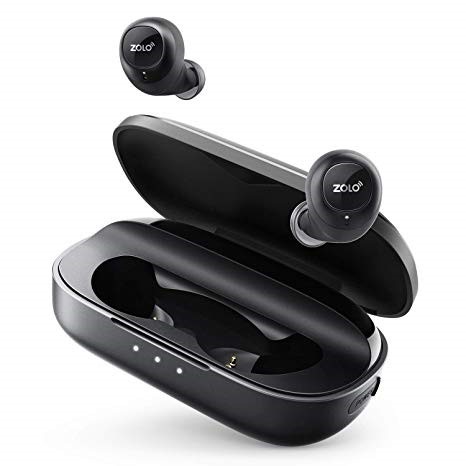 Pros:
Snug, comfortable fit
Decent sound quality
Large capacity charging case
Bluetooth 5.0 delivers solid connection
Cons:
No onboard volume controls
Buttons inconsistent with tactility
Latency issues apparent when streaming video
Not very stylish
Price: Rs.9,999
Available at Amazon
Manufactured by Zolo+ Liberty offers you a sublime experience and change your way of listening to music forever. The earphones are equipped with an incredible 48 hours playtime. Bluetooth 5 enables faster transfer of data and a better level of connectivity as well. The sound experience is next level due to effective noise cancellation.
This effectively blocks any outside noise. A single toggle awakens the assistance which makes it easy to carry out any tasks even with the mobile handset at a distance. The Fit Grip technology makes it possible to hold on to the earphones and tuck them securely in the ears while on move.
Once paired with the desired device, the simple push and go technology makes it easy for the user to connect without going through the hassles of pairing up again. The drivers are graphine coated which provides a superior quality of sound delivery.
7. Boult Audio Twinpods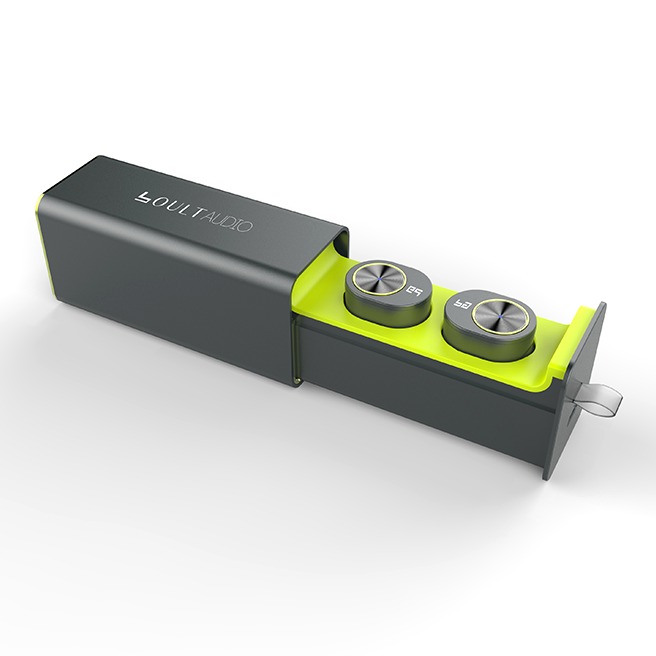 Pros:
IPX5 Certified
6 hours of battery life
Design
Cons:
Average bass
Low calling audio
Average noise cancellation
Price: Rs.2349
Available at Amazon
Boult audio twin pods are decent enough to deliver the audio on the go with lots of features are packed with it. Siri and Google voice commands make it instead of pulling out your phone. Built-in woofer gives the extra edge to the audio quality and can be used for long hours because of the comfortable fit. Integrated microphone let you take any calls and only one bud will be active while you take any call. With 6 hours of battery life, you get an additional 12 hours of charge with the charging case making it last longer.
8. Chevron C165
Pros:
Good battery life
Design
Mic and call management
Powerbank
Competitive price
Con
Price: Rs.2789
Available at Amazon
Chevron has taken the format of listening to music no strings attached to a different level altogether. The best quality of these true blue earphones is their ability to handle sweat since such accessories are mostly used during working out or exercising. The material used to make these earphones is sturdy but quite lightweight.
The earphones also have a built-in mic control which makes it easy to give instructions while keeping the phone at a comfortable distance. Also, a simple button has been provided which gives physical control over the basic functionalities such as attending a call, pausing the music, etc.
The Chevron Ultra earbuds offer a battery backup of seven hours.  When in need of a recharge, there is a provision of a magnetic touch power-bank which provides quick charging up. The earbuds also come with a large, medium and small bud which makes it easy to be used by any user at ease.
9. Noise Shots X5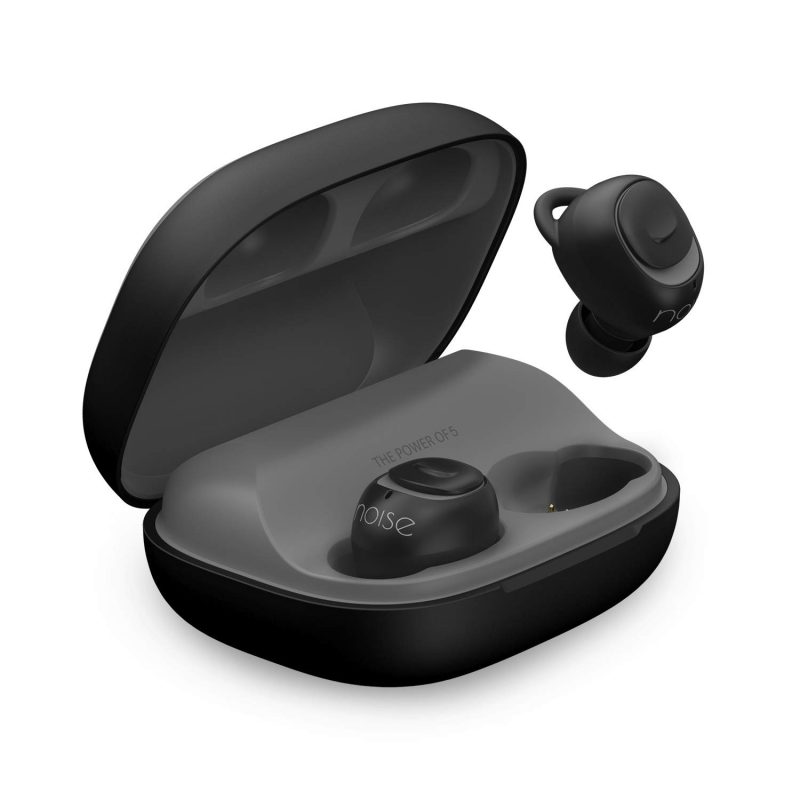 Pros:
Bluetooth 5.0
IPX5 certified
Google/Siri Assistant
Cons:
Price: Rs.4699
Available at Amazon
A comfortable and with good design, Noise Shots X5 looks very attractive. It has Bluetooth 5.0 technology with Google/ Siri voice assistant enabled. This earbud is packed with 5 hours of charge and can charge you bud up to 10 times making you earbud last long with the case and you can even charge your phone with it, the charging case itself has 2200 mah battery.
Out of the multiple options mentioned above the Skullcandy stands out easily owing to greater brand value. However, the battery backup provided by the Anker Zolo is incomparable placing it in an entirely different league. The ease of fitting with the Chevron Earbuds provide it with the capability of being usable by multiple people.
Suffice to say that the scope of True Wireless Earphones is vast in our lives. This is probably one of the reasons which have led to easy assimilation of this technology by the consumers.