After gaining huge success with Jio Telecom Network & Jio phone, Reliance has introduced Jio GigaFiber. The Reliance JioGigaFiber will provide Fiber-To-The-Home (FTTH) Broadband Internet Service for which registrations have already started since August 15, 2018. All of us must be aware of the fact that this is just a preview offer where the whole network will be put to test. The actual service will be initiated a few months later maybe after Diwali.
Since this is a preview offer its obvious that you'll receive the service for lowest possible rates. So let's find out how much you'll have to pay to get your own Reliance Jio GigaFiber connection.
 What is Jio GigaFiber Preview Offer?
After you've registered for the service, customers have to pay a security deposit of Rs. 4500 for the GigaHub Device. The customers will receive Internet speed up to 100Mbps for a period of 90 days. It will have a monthly usage quota of 100GB along with free access to Jio's Premium Applications. You can pay the security deposit amount by using Jio Money, Paytm, Debit or Credit Card. If you happen to exhaust all of the 100GB available for your usage, you can use the complementary data top-up of 40GB. To know more about this you can surf jio.com.
How to Register for the Jio GigaFiber preview offer?
1. You need to go to gigafiber.jio.com.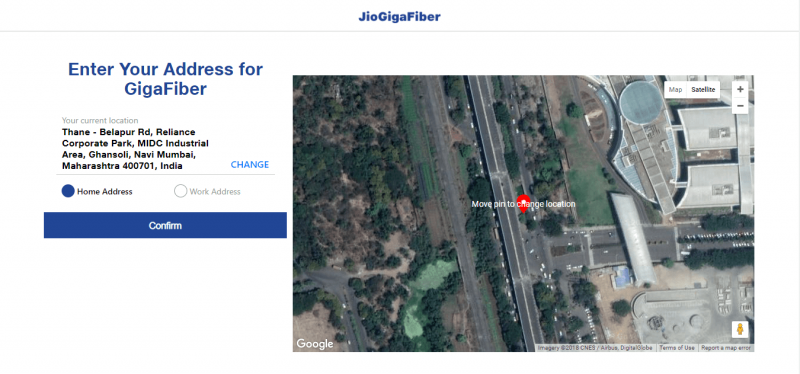 2. 2.Users will need to provide their address & location details. After that select the type of category, whether it is your home address, office address or others.
3. After that, you'll have to provide your Name & contact number. If you have Jio number you won't receive OTP for others, contact number would be confirmed via OTP.
4. Enter the OTP & hit submit. After that you one last checkbox to select but that is optional so I prefer to leave it untouched.
This is the completion of your registration process. It's not like that now you have booked Jio GigaFiber Preview offer for your home. This is just a process where the Jio executives will evaluate the number of customers that have registered from your locality. If they have a satisfactory number of registrations, only then they will set up the connection in your area.
The Jio GigaFiber Broadband Internet Connection is FTTH Service for which approval is needed from the RWAs or the Societies which might take some more time than usual. It involves some procedures so the customers will have to wait for a longer time than what they are expecting for Jio GigaFiber to arrive at their place.