Are you planning to buy the new Dell Inspiron 7000 series gaming laptop?
It is a black device with red accents. It all comes in whole black and red gamer thing. It looks pretty cool and it is a perfect laptop for mid-level gaming. And what makes it more special is it starts at only 90000 bucks for the base variant with GTX 1050 Ti graphics card. It is themed around the Spiderman homecoming movie, with its webbed vents and exterior speaker grilles. I really like the design of the built quality of this laptop in look vise but it's a whole another story how does it feel.
Design of Dell Inspiron 7567 Gaming Laptop:
It has a rubber finish on the top surface and this feels really nice. It is made up of soft-touch material, I like it when its new, it has a really great grip, feels nicer in hand and doesn't show fingerprint easily. But when it gets little older, it can look really bad, I have this ThinkPad P50 signature edition made up of similar material, it's about 8 months old now and see how this turned out.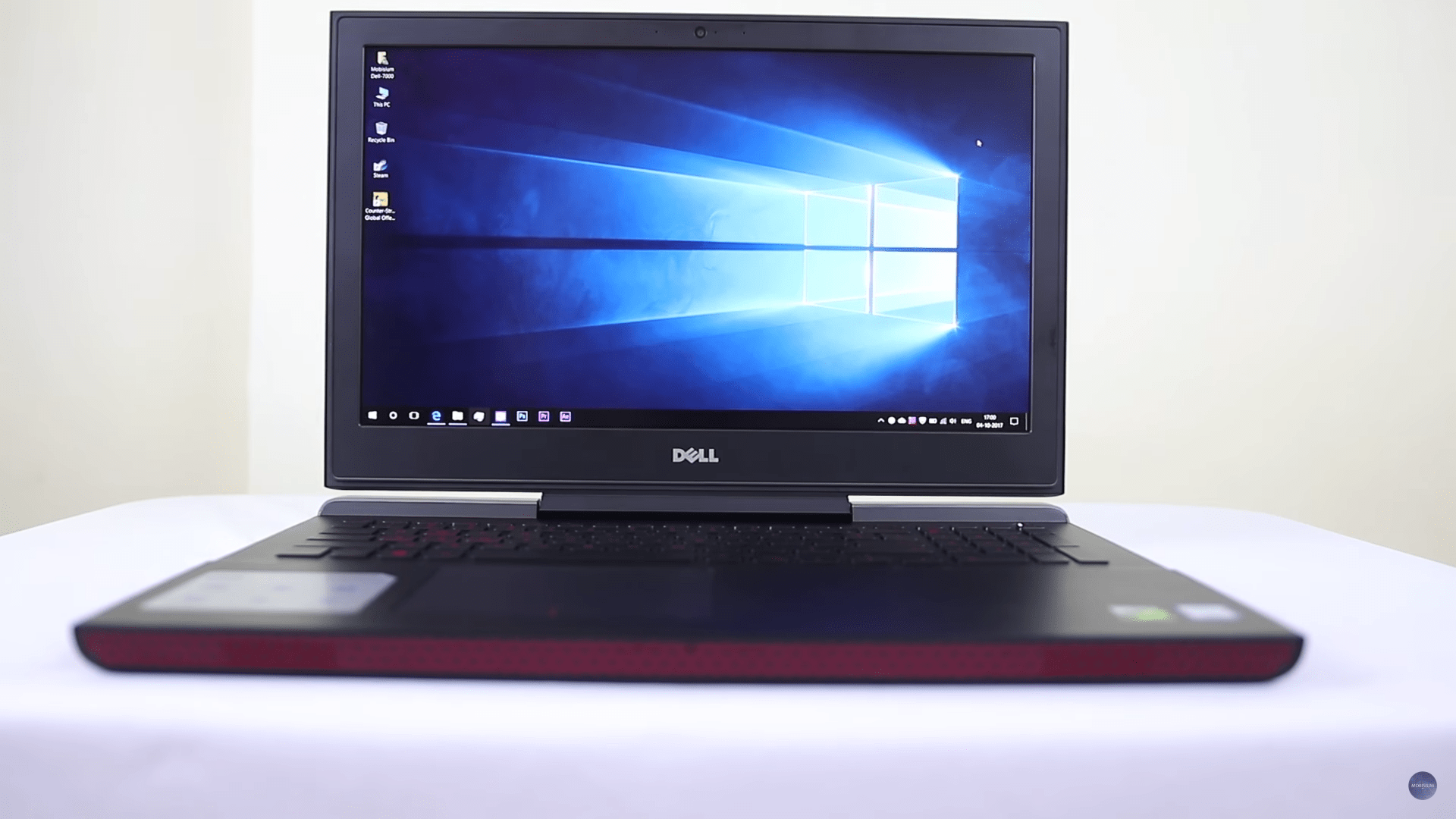 This laptop has actually many external red accents than I first noticed, there's some red in the exhaust vent and the Dell logo and forwarding facing webbed (Spiderman) speakers, The keyboard prints are red. Talking about keyboard backlight, there is no way you can customize the keyboard lights and they only light up Red and the light is very dim in bright mode.
The laptop we have is the high-end variant, it comes with a hybrid storage i.e., 1TB HDD and 256GB M2 drive. 16 Gigabytes of RAM, Nvidia GTX 1050 Ti graphics card and Intel seventh generation i7 CPU clocked at 2.8GHz.
Ports in Dell Inspiron 7567 Gaming Laptop:
The port selection on this thing is pretty good. On the left, you get the noble lock slot, a standard dell charging port, a USB 3 port, and a full-size SD card slot. To the right we have, an Ethernet port with speed up to 1 gigabit per second, one HDMI port for the second monitor, two more USB 3 ports and a combo headphone jack. There's no USB-C port so no thunderbolt port for one more extra monitor.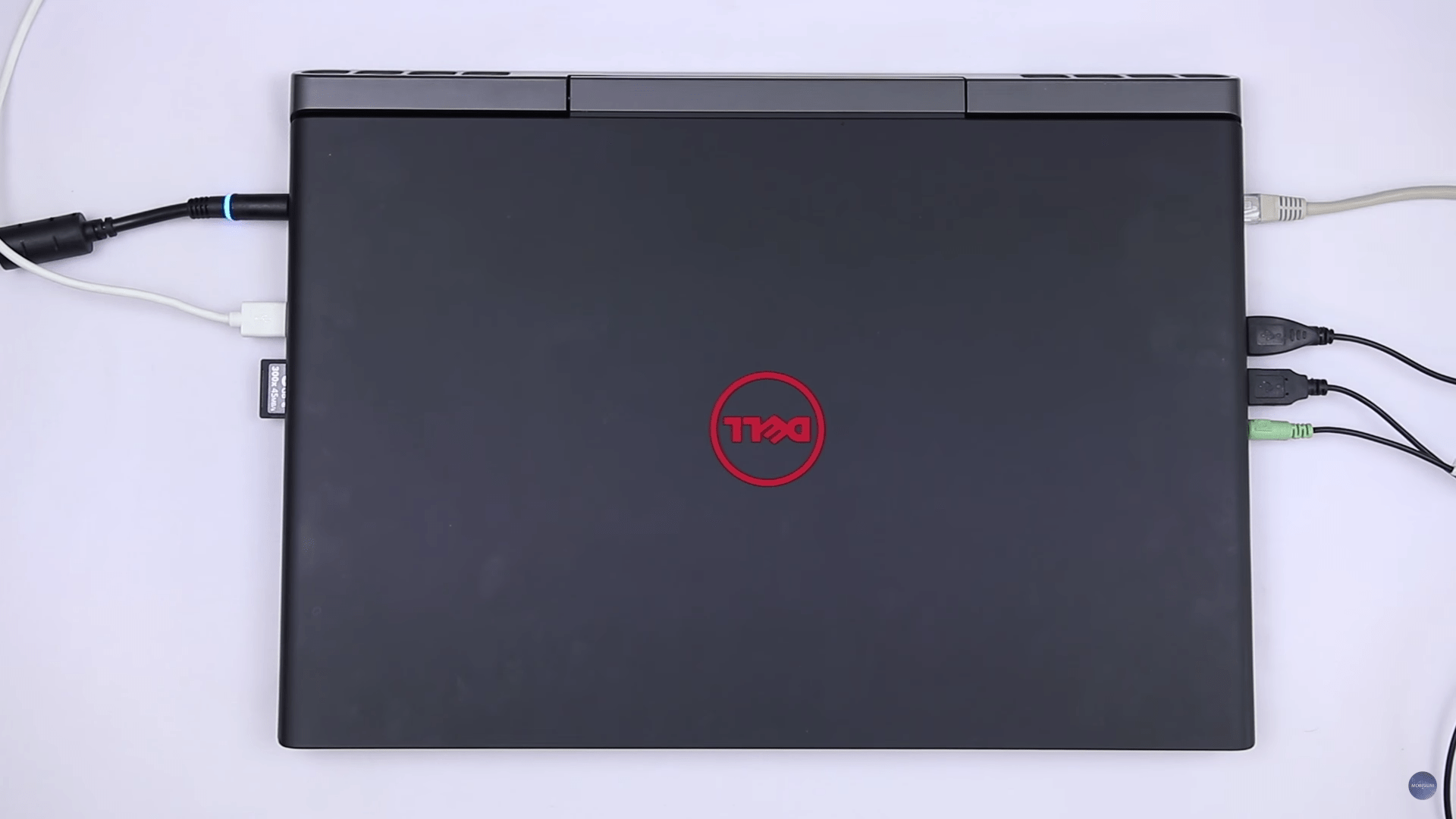 Hinges are in the position in the center, so there's more chance for it to twist every time you hold it to move the laptop. And I like the way how it opens with an only hand of course because its heavy, It weighs about 2.7Kg. The exterior case holding the vent is made up of plastic and the palm-rest have a slight touch of soft material.
When you open it, you get a great keyboard, the layout is nice, it's got a number pad and everything.
The keyboard in Dell Inspiron 7567 Gaming Laptop:
The keyboard, well, doesn't feel nice to type on, the keystrokes are the little bit softer than some gaming laptops. But that's up to you how you like it. The trackpad is really big, it uses windows precision driver, it performs fine but doesn't feel premium like the one we get in ThinkPad, click pressure is good, and we get a snappy feel. Palm rejection while gaming also works well.
The flex in the display is very annoying but the chassis and keyboard flex is negligible. The laptop stays silent while gaming and doesn't heat up much. The fan speed cannot be controlled at this moment.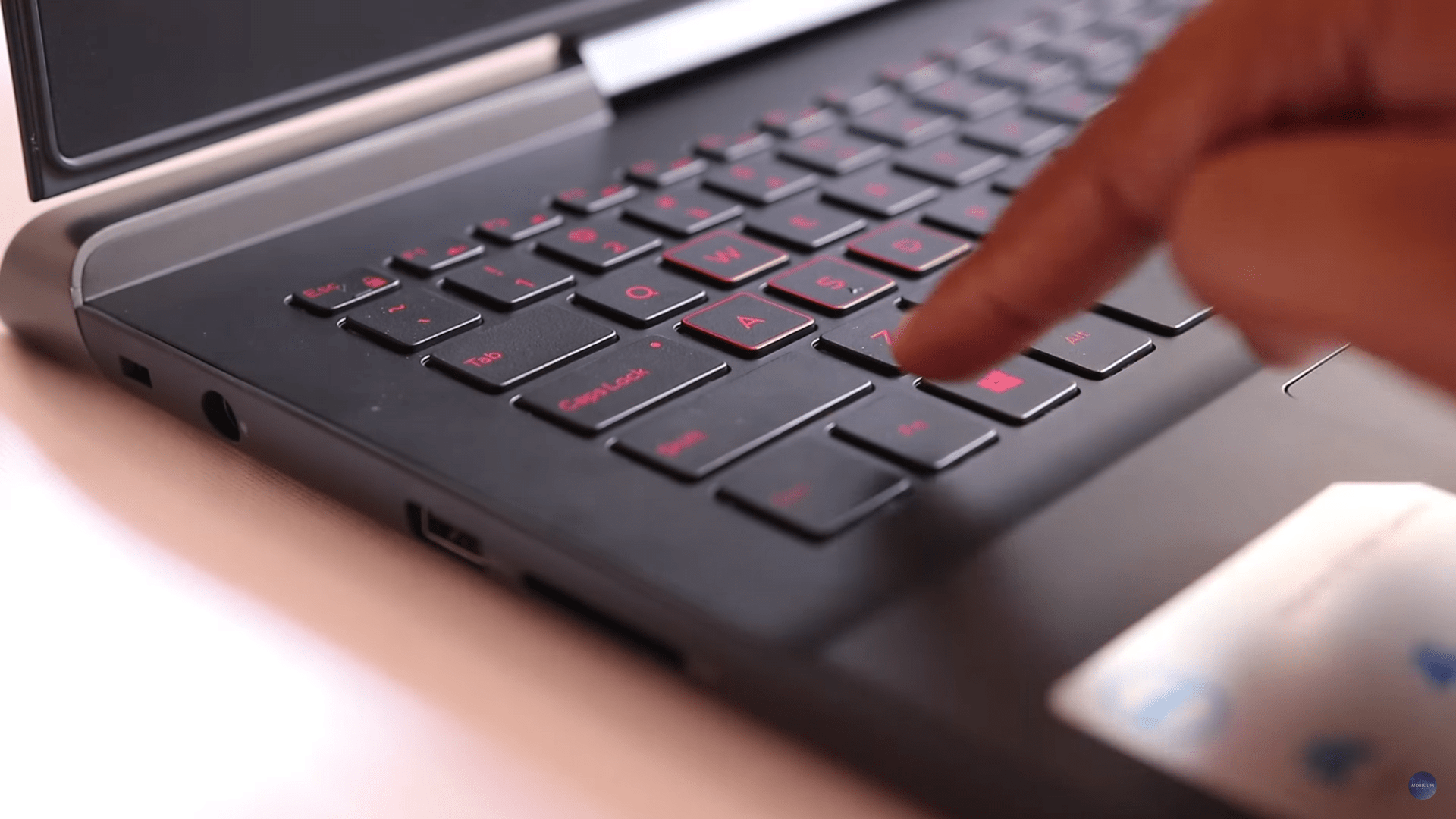 The back panel of Dell Inspiron 7567 Gaming Laptop:
This is one of the easiest to open back panel laptop so far, there's only one screw holding the panel with all the swappable components inside. In the middle you get a 2 RAM slot capable of running ddr4 memory, you can expand it up to 32gb. Just below that, we get a 74wh huge battery that can last up to 6 hours of no gaming i.e., regular usage. I said that because most people get confused and ask why their laptop only last for an hour or two while gaming. And this laptop while gaming can last up to 2 hours, but as instructed I recommend you to plug in power source while playing games. On the left, there's 256GB M2 SSD storage, just below it we get a 2.5-inch hard disk drive. If you buy the 8GB RAM variant you probably won't get the SSD drive, but you can always add it later. There are two fans on the top one for Kabyle CPU and other for Nvidia GTX 1050 Ti card and a head pipe running across the metal.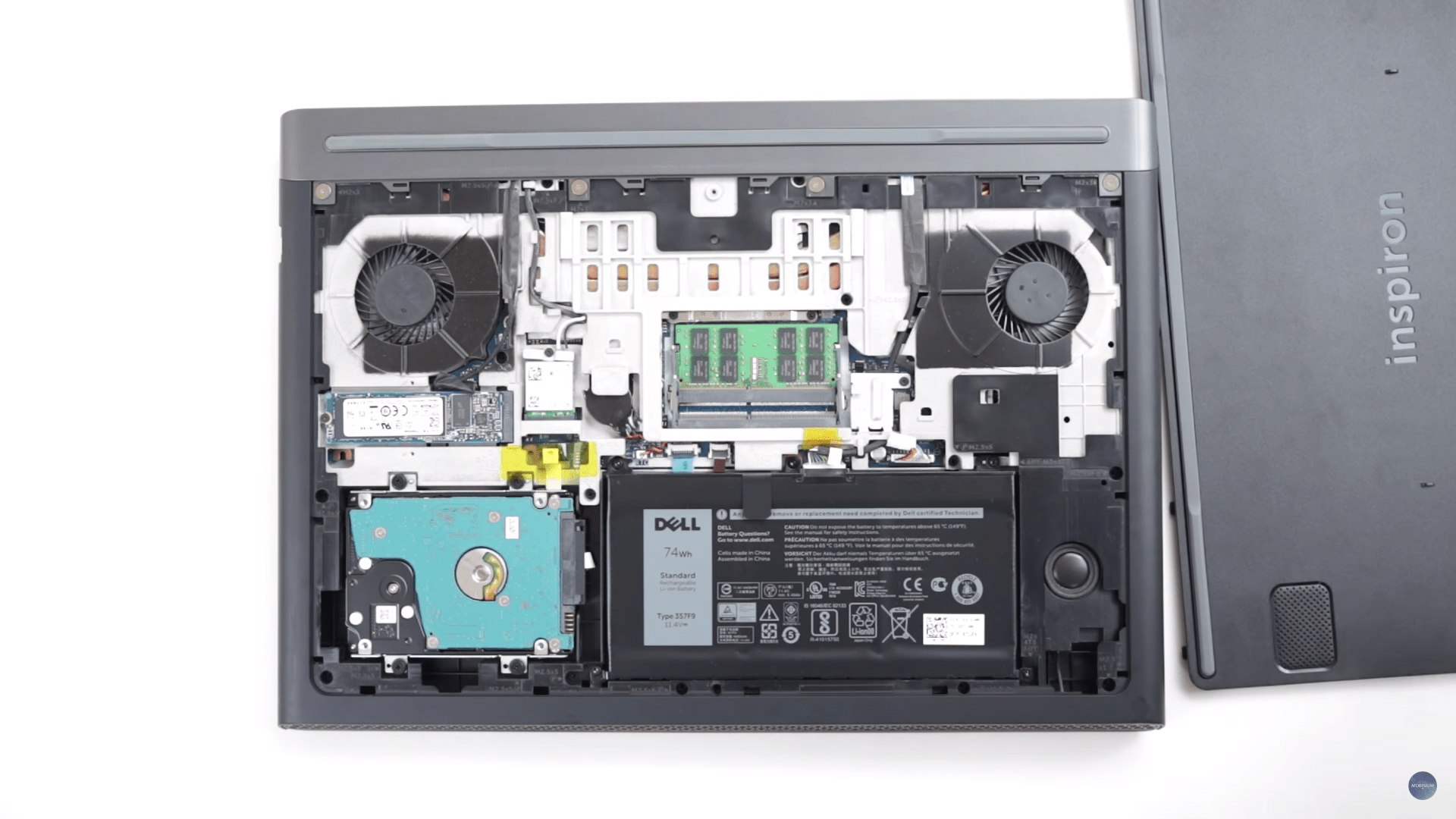 Webcam on Dell Inspiron 7567 Gaming Laptop
For those who care the webcam is a 720p. It is pretty good for video call, and streaming PIP in videos games.
The sound in this laptop is great, the sound comes from the two hidden speakers from the front of the laptop and there's sub-woofer at the bottom. It is very loud to enjoy music & movies. And while gaming? you know you are just gonna use headphones. The highs are decent, the mids are clear and lows are amazing. Here's a sample in the video if you want to hear.
Dell Inspiron 15 7567 Gaming Laptop Review (Indian Edition)
The screen is 1080p and it's an IPS panel which provides a much better viewing experience than the last year's model. The screen is non-reflective which I liked the most. And colors are rendered properly but the screen is not very bright.
Gaming on Dell Inspiron 7567 Gaming Laptop:
And finally, the gaming on this laptop is good, it has 4GB dedicated Nvidia 1050 card and shared 8GB from RAM which runs game pretty smoothly. The frame rate we get was constant 30fps on CS: GO on a very high graphics setting. We played Dota 2 with no issues as well. The fans were quiet and heating wasn't noticeable on the palm rest.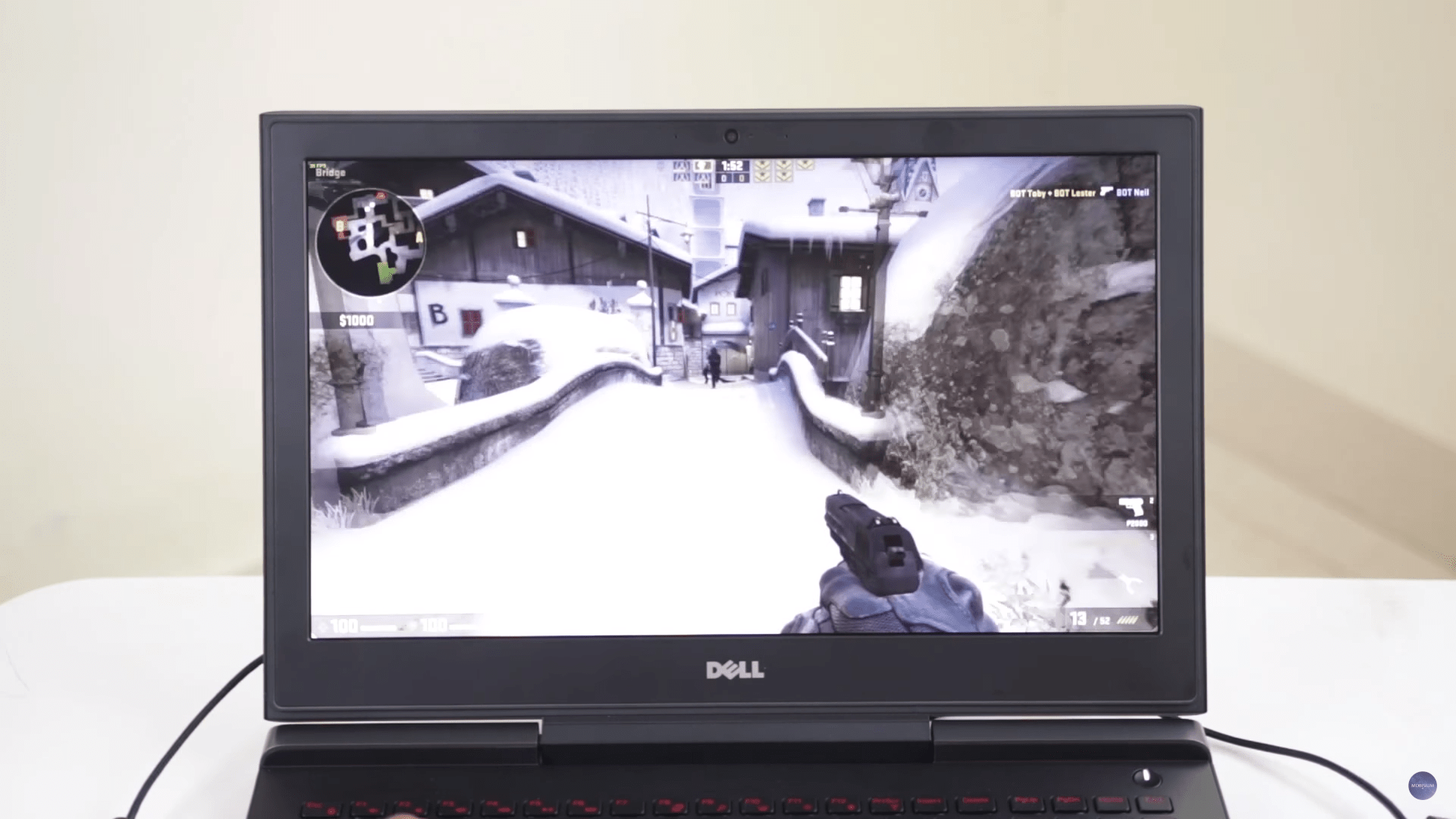 The SSD is very fast and the same can be said about the 2.5inch hard drive. File transfers are pretty quick. Booting up only takes 10-11 seconds and you can start your work without waiting for any apps to load. This laptop ships with windows 10 home edition and you get a licensed copy of office 2-16 as well.
So should you buy Dell Inspiron 7567 Gaming Laptop?
You can easily do mid-level gaming. Photo and video editing on the IPS panel are totally fine. Adobe Premiere Pro and After effects run smoothly with 16gigs of RAM and M2 SSD does the job in a flash. The port selection is good and if you want you can totally upgrade specs like RAM, m2 drive, HDD and wifi card.
You might not like the keyboard because it has a large travel distance but that's up to your preference and eventually, you'll get used to it. Trackpad doesn't freeze up and battery life is also good. Web browsing with many tabs opened and multitasking is a breeze. You don't get a lot of bells and whistles like touchscreen panel or 4K display but you are also not paying for all these extra features. And in our opinion, we think at the price of 1.12L this is the best gaming-cum-video editing machine. If you like this laptop but not the budget you also have the lower end variant option with 8gb ram and without SSD for around 9000 rupees. And even if you don't want it for gaming this laptop won't disappoint you in your regular day to day activities.