So wedding preps begin? Do wide arrays of mehndi designs keeping you in perplex? Picking the best one has become a challenge for you?
No worries!
Etching mehndi on hands gives an unimaginable euphoria every time. However, bridal mehndi is the most special and a sign of a new beginning, so it must be unique, and exquisite, no? The best part is you can add personalized elements too to make it look elegant.
Every detailing from the wedding dress to minor things of a bride needs more precision. So, how to make mehndi look more sophisticated? We make it easy for you by showcasing the best bridal mehndi designs ever.
It's your wedding day, after all, so you have all the right to go berserk to get the best designs ever. We are showing you the top ones and you can select that suits you perfectly.
The Best Bridal Mehndi Designs- You Can't-Miss!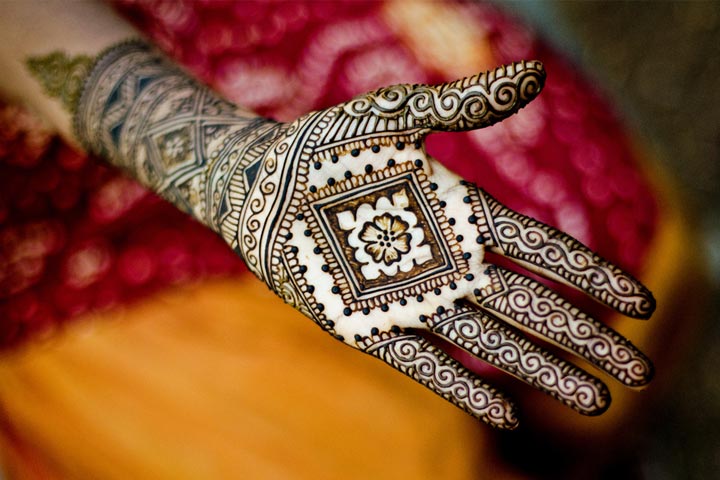 Portraits
Portraits or famous traditional Dulha Dulhan motifs or even Raja Rani motifs never goes out of trends. It's been designed on the bride's hands for ages that bestow the perfect bridal mehndi feeling. It has even turned as a rage in 2020 to get it etched on arms. 
We have kept it on the top of our list as this timeless design will make a focal point of the whole mehndi design. The artwork of the Mughal era's king & queen too is quite prevalent and chosen by bridals.
Wedding Sequence
Another amazing design that will leave you speechless is the wedding sequence imprinted on hands. All the functions & rituals starting from Baraat arrival to Mandap rituals all are etched on the hands. 
It's no small feat to visualize the whole Baraat scene on the hands. Even Sindoor Ceremony design is a portrait on the hands which also looks so splendid in appearance. 
Husband's Hobbies
To make the design a galore of presentation, you can add your husband's hobbies to it. It is also trending quite well this year.
Either its cricket or if he is fond of Football Club. Even caricature of etching groom loving his pet or doing yoga or gym looks so cool and worth watching!
Why not do something unique on your golden day of life? Yes, you can set a new vogue on varied social media platforms by running your hashtag. 
Its usually seen couples put wedding hashtag in photobooth or invitation cards too. You can get it imprinted in your hands and make your mehndi design most trendy with it. Let the world know how excited are you! 🙂
Vows on Mehndi
Yes, you take a vow on your wedding day. But why not printed on your hands? 
It has become even a trend to add vows to your hands. It is a great form of expression to show your love & commitment to your partner. It looks so adorable and unique. Express it freely to your partner!   
Love Story
Have a long and of course, a successful love story? Then why not add it in your mehndi design. With the day when you met first to every moment subsuming the special day when he said those magical words, you can etch all on your hands. 
Let the people wonder and give you blessings to make it long-lasting!
Horoscope Symbols
This again is the most trendy bridal mehndi design preferred by most of the brides. The important dates along with horoscope signs etched on hands look great!
Pet Portraits
Love pets? Then why not show it on your hands on your special day?
Get your pets designed well on your hands and give it total sense!
Adding Love Quotes
Love quotes along with some never-to-forget postures like purposing moment by your hubby to you, even add more sense to the bridal mehndi design. 
You can dedicate your feelings to the quotes' form in your bridal mehndi design. Believe us, he will love watching it over & over again! 
Peacock Design
Peacocks' designs are the most traditional ones that brides etch it for ages. It looks so stunning and gorgeous either designed on hands or legs. Usually, it is preferred with lotus design to make it look more perfect.
Either you like minimalist or traditional, peacocks in mehndi designs are available of all kinds. So, you can choose it too!
Couple Portrait with Quotes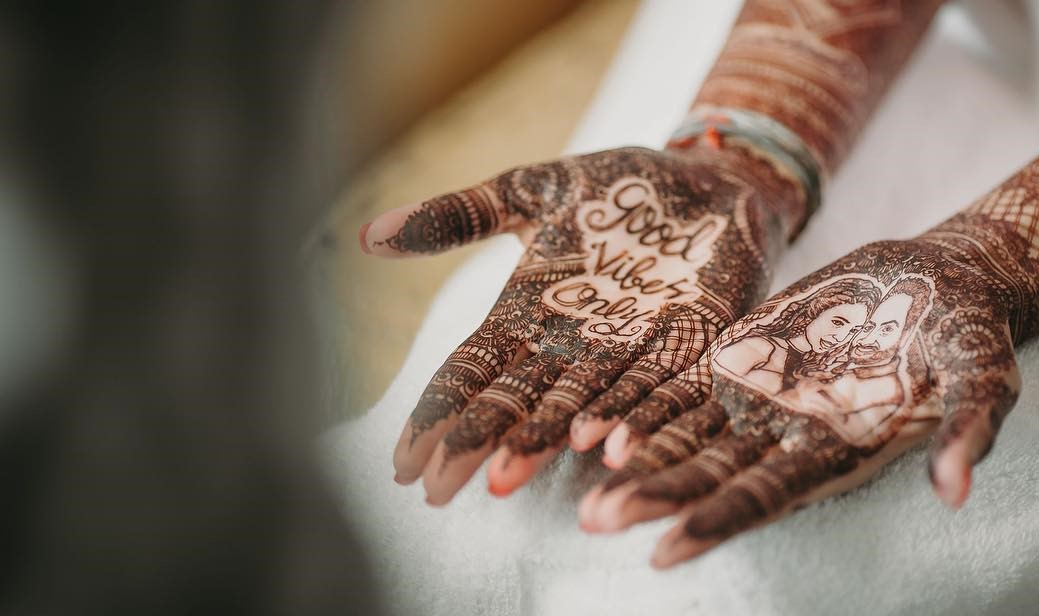 Another design you can opt for is a couple of portraits along with quotes. This trendy design can be customized in the way you want. Usually, the couple portrait appears on one hand and quote one another one. Well, you can get it designed in the way you want.
As it's not easy to create caricature by watching the picture so you surely need the best one to get it prepared. Usually, quotes like, 'Good Vibes Only', 'Made for Each Other', 'Happy Times' etc. are preferred. Clubbing with floral designs around couple caricatures and quotes, make it look more beautiful.
Panda & Penguin to add cuteness
Some brides prefer designs of penguins or pandas to make your mehndi look more cute and elegant. You can prepare these dainty sketches on your hands!y
So, Which one You Chosen?
There are many other designs to relish you! The fusions of mehndi textures, fashions, and designs make it peculiar. We have something for everyone so keep visiting us for adding pride in your happiest day of life.
Pick the best one!