Oppo recently dropped in its latest pair of wireless earbuds branded as the Oppo Enco Free (I know it reminds of sugar-free). We don't know about its sound quality yet but there's no doubt that its design is copied from Apple's AirPods Pro. It seems like Oppo didn't even bother to hire a design team. Alongside design, basic features are also identical to the ones on the AirPods, but not all though.
In this article, we'll be having a look into these earbuds and seeing how it fares against the AirPod Pros.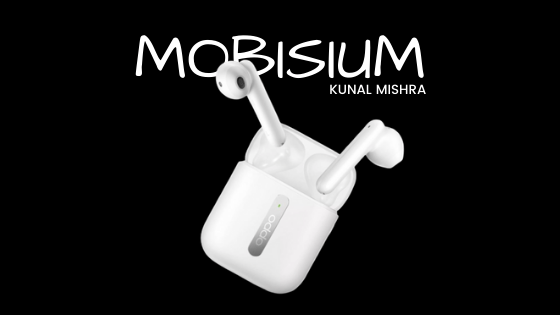 Noise Cancellation
Like the AirPods, these Enco Free earbuds have noise cancellation, which Oppo boastfully calls "AI uplink noise cancellation". And perhaps, you can enjoy this noise cancellation only during calls because in the official webpage, "during calls" is always mentioned.
Unlike Apple, who boastfully revealed what tech their AirPods use to cancel outside noise, Oppo's official webpage for the Enco Free didn't tell many details.
Binaural Simultaneous Bluetooth Transmission
These pair of earbuds have "binaural simultaneous Bluetooth transmission" meaning that audio from your smartphone will be transmitted to both ears simultaneously unlike the regular TWS headphones which relay audio, transmitted from the phone, from the left earpiece to the right one. An important thing to note is, that this will only work if your smartphone has a Qualcomm and MTK platform. As tested in the Oppo labs, when the Enco Free was connected to Reno 3 Pro, the latency was 120ms.
If you don't know what latency is, it is the time interval between pressing the button the smartphone and sound starting to play on the headphones.
The AirPod's official webpage didn't specify which kind of transmission it uses.
Ultra Dynamic Speakers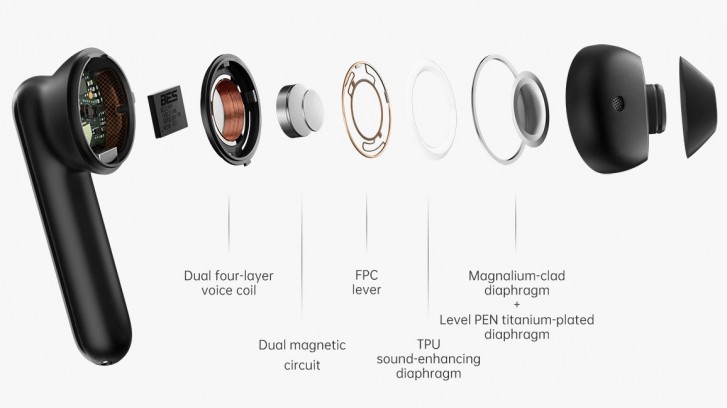 These buds pack in "ultra-dynamic speakers" and FPC positioning system. They also have a sophisticated dual magnetic circuit and composite diaphragm made of titanium dome and magnesium cladding. Oppo says that it uses six patented technologies to enhance details, bass and dynamic range of music.
Speakers on the AirPods have adaptive equalizers that enhance the audio coming out. It uses an inward-facing microphone and the amplifier to control listening levels and remove background noise.
Controls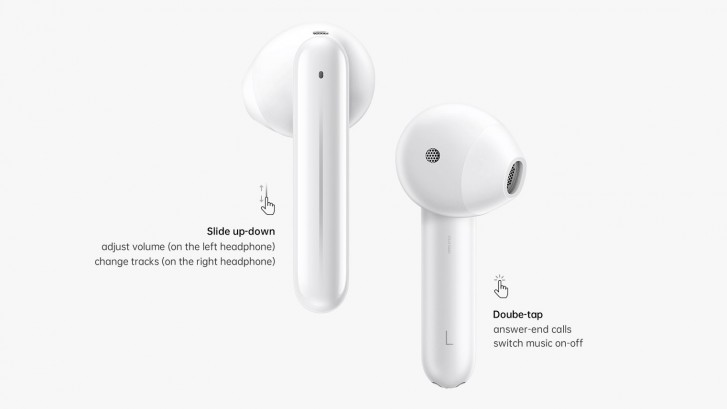 There's no force sensor like on the AirPods. Rather, you can slide up or down. Sliding up/down on the left headphone adjusts volume while doing it on the right one, changes tracks. Double-tapping can answer or end calls or play or stop the music.
I, personally, feel that this is better because pressing the stem of your AirPods isn't that convenient.
Customizable Fit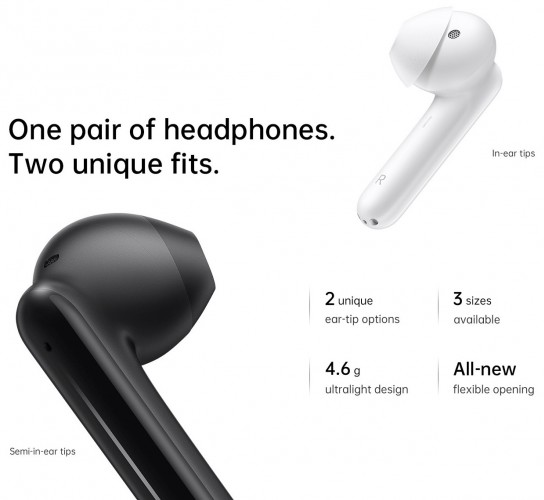 One thing that caught much attention on the AirPods is its two customizable sizes. And it's nice that Oppo has taken it one step further by bringing two unique ear-tip option and with three sizes. The liquid silicon rubber tip comes with two distinct designs. In-ear tips for a more secure fit and semi-in-ear tip for more breathability.
AirPod Pro started this. And like always Oppo copied this too. The three different sizes Apple bundled with the AirPod were to form a seal preventing external noise from peaking into our ears to some extent. Apple's iOS 13.2 lets you run a test on your ears using the AirPods to find out which size fits you the best.
Playback duration and Battery
According to Oppo's laboratory tests, the earbuds give you 5hrs of playback time on a single charge and 20 more hrs of playback time with the charging case (with volume as 50%). Moreover, the call time stated is 3hrs on a single charge and 12 more hours with the charging case. Oppo says using the headphones in cinema mode or gaming mode will reduce the playback time.
The battery on the headphones is a 31 mAh one which takes 70 min to charge up. And the charging case has a 410 mAh battery which takes 110 min to charge up.
The case that comes with the AirPod Pro can sustain the AirPods for 24hrs as usual. The AirPod Pros can function smoothly for 4.5hrs with Active Noise Cancellation on a single charge.
Quick Pairing
Open the charging case, and your smartphone will show you a pop-up window which will help you to connect to the headphones. Once that's enabled, whenever you open the case, the headphones will automatically pair with the smartphone. But note that, this quick pairing will only be supported on Oppo smartphones running ColorOS 7.0 or higher, excluding A and F series, Reno2 Z and R15.
It's clear from the pairing animations of the Enco Free that, this is another feature that completely copied from the AirPods. Except that AirPods can connect to Apple Watches as well. And also except that Enco Free can connect to Android devices as well (albeit, only on OPPO devices.).
Water Resistance
The headphones have IPX4 water-resistance which protects them from everyday splashes and splashes and spills. But the official webpage clearly states that it can't guarantee protection under extreme circumstances. Also, it says, "To prevent damage from sweat, avoid wearing it during intense physical activities."
AirPods are also IPX4 rated against damages from sweat and water. So you can plug them in even when it's raining or when you're in an intense workout.
Repairability
By the time of writing this, Oppo's Enco Free wasn't listed on iFixit. So, we don't have a word on repairability yet. Honestly, I don't expect a great repairability score too because Apple's AirPod Pro got a 0/10 score in repairability.
Colour Variants and Price
These headphones come in three colours: white, pink and black.  We don't yet have an official word on pricing too. But it'd be definitely less than the AirPod's pricing.
The AirPod Pro comes with a price tag of $250.